Welcome To Clara Barton School!
"Today a reader, tomorrow a leader." – Margaret Fuller
View the latest Parent Meeting Notes, please click HERE.
Still have a question about reopening?  Submit it HERE and we will provide an answer in the table below.  **Please note, this is not the Google Form to decide on Hybrid or Virtual for your child.**  ¿Todavía tienes alguna pregunta sobre la reapertura? Envíelo AQUÍ y le daremos una respuesta en la siguiente tabla.  ** Tenga en cuenta que este no es el formulario de Google para decidir sobre híbrido o virtual para su hijo. **
Find Your Questions Here (Encuentre Sus Preguntas Aquí)
If you submitted a question through the Google Form above, you can find your question and response below.
Question
Answer
What are the current options for my child?

¿Cuáles son las opciones actuales para mi hijo?
Option 1: Your child would attend school either on Monday and Tuesday or Thursday and Friday.

Option 2: Your child will stay fully virtual.

Opción 1: Su hijo asistirá a la escuela los lunes y martes o los jueves y viernes.

Opción 2: su hijo seguirá siendo completamente virtual.
When can I make my choice for which option I would like my child to do?

¿Cuándo puedo elegir qué opción me gustaría que hiciera mi hijo?
You will have between October 26th and October 30th to choose either Virtual or Hybrid Learning for your child. All students will be virtual on Wednesday.

Tendrá entre el 26 de octubre y el 30 de octubre para elegir el aprendizaje virtual o híbrido para su hijo. Todos los estudiantes serán virtuales el miércoles.
Will my child need to wear a uniform if I choose the hybrid model?

¿Mi hijo deberá usar uniforme si elijo el modelo híbrido?
Yes, uniforms and masks will still be required for all students attending school in person.

Sí, se seguirán requiriendo uniformes y máscaras para todos los estudiantes que asistan a la escuela en persona.
If I choose one option, will I be stuck with that option?

Si elijo una opción, ¿me quedaré con esa opción?
The choice that you make will last for the entirety of the second quarter until January.

La elección que haga tendrá una duración total del segundo trimestre hasta enero.
What happens if I do not make a choice for my child before October 30th?

¿Qué sucede si no hago una elección por mi hijo antes del 30 de octubre?
If you do not make a choice for your child before the deadline on October 30th, your child will automatically be enrolled in the fully virtual option.

Si no hace una elección para su hijo antes de la fecha límite del 30 de octubre, su hijo se inscribirá automáticamente en la opción totalmente virtual.
Can I pack my child lunch if I choose the hybrid option?

¿Puedo preparar el almuerzo para mi hijo si elijo la opción híbrida?
Yes, you may still pack your child their own lunch. If your child is not packed a lunch, they will be provided the school lunch.

Sí, aún puede preparar su propio almuerzo para su hijo. Si su hijo no está empacado el almuerzo, se le proporcionará el almuerzo escolar.
Will parents be allowed to help disinfect the school?

¿Se les permitirá a los padres ayudar a desinfectar la escuela?
In order to keep the risk of spreading COVID-19 to a minimum, we will not allow parents to enter the school to help disinfect the school. Our wonderful custodial staff will be doing this.

Para mantener el riesgo de propagar COVID-19 al mínimo, no permitiremos que los padres ingresen a la escuela para ayudar a desinfectar la escuela. Nuestro maravilloso personal de conserjes hará esto.
If I decide for my child to be 100% Virtual, will it continue until the end of the school year or until January?

Si decido que mi hijo sea 100% virtual, ¿continuará hasta el final del año escolar o hasta enero?
If you decide for your child to be 100% Virtual, they will stay 100% for the entire second marking period. You cannot change to the Hybrid Model until the end of the marking period. If you choose the Hybrid Model, you can choose to switch to the 100% Virtual Model at any time. However, your child must then remain 100% Virtual until the end of the second marking period.

Si decide que su hijo sea 100% virtual, permanecerá al 100% durante todo el segundo período de calificaciones. No puede cambiar al modelo híbrido hasta el final del período de calificación. Si elige el modelo híbrido, puede elegir cambiar al modelo 100% virtual en cualquier momento. Sin embargo, su hijo debe permanecer 100% virtual hasta el final del segundo período de calificaciones.
How many days a week will the students attend in person for the Hybrid Model?

¿Cuántos días a la semana asistirán los estudiantes en persona para el Modelo Híbrido?
If you choose the Hybrid Model for your student, they will be attending school twice in one week. The School District of Philadelphia will decide if your child is in the Monday and Tuesday cohort or if your child is in the Thursday and Friday cohort. In both cohorts, the students will be virtual on Wednesdays.

Si elige el modelo híbrido para su estudiante, asistirán a la escuela dos veces en una semana. El Distrito Escolar de Filadelfia decidirá si su hijo está en la cohorte de lunes y martes o si su hijo está en la cohorte de jueves y viernes. En ambas cohortes, los estudiantes serán virtuales los miércoles.
I want my child to attend school. What is the form that I must fill out?

Quiero que mi hijo asista a la escuela. Cual es el formulario que debo llenar?
You are welcome to email Mrs. Bowen at cbowen@philasd.org with your child's name, your child's room number, and your name. You could also message your child's classroom teacher to inform them of your decision.

Puede enviar un correo electrónico a la Sra. Bowen a cbowen@philasd.org con el nombre de su hijo, el número de la habitación de su hijo y su nombre. También puede enviar un mensaje al maestro de la clase de su hijo para informarle de su decisión.
Click HERE to view the School District of Philadelphia's Hybrid Learning Plan in its entirety.
If you were not able to join us for our Hybrid Learning Parent Meeting on October 22, please click the pictures below for access to the English and Spanish versions of the presentation!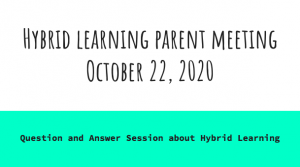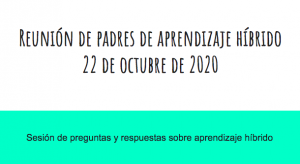 Not able to attend our virtual Back to School Night?  Click HERE to access Mrs. Bowen's presentation!  Click the play button below to listen to Mrs. Bowen's presentation.
New Student and Kindergarten Registration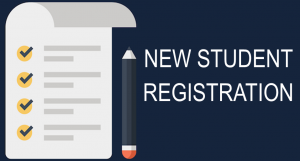 There are four ways to register your child:
Points of Pride
Our unique K-2 school is located in the Feltonville Educational Community Campus.  We have a culturally diverse population of students and utilize the CLI model for literacy.  We also have partnerships with many local universities and institutions.